Shining Light Baptist Church (SLBCofDanville) is located on Blairmont Drive in Blairs Va. We began our journey together in August of 1999, and celebrated 20 years of ministry in August of 2019. Our mission statement is that we exist to be Voices for God's Word and Hands for God's Work. We are known for our family environment and our passion for teaching the Bible.
The SLBC family is committed to being voices for God's word by encouraging personal bible reading, sharing the Bible in both private and public settings; and modeling Biblical character in our own life.
We are committed to being hands for Gods work by demonstrating to our community there is a God who cares about them; we believe we can only do this when we show them God has given them a church that cares about them. Being part of the SLBC family means being asked to join us in giving financially to help local families, or going together to accomplish a community project. One way we invest in our community is by investing in the elementary school nearest us (Southisde Elementary School). We partner with White Oak Church to supply forty bags of food each week. These bags contain a couple breakfast, lunches, and snacks for children who need a little extra to eat on the weekend. We have also participated in painting projects and other projects for the school Currently, we offer a bi-weekly bible study for teachers and staff after school hours. In addition to our community involvement we work together to send the gospel and the love of God to other parts of the world.
Join us and become a voice for God's word and hands for God's work.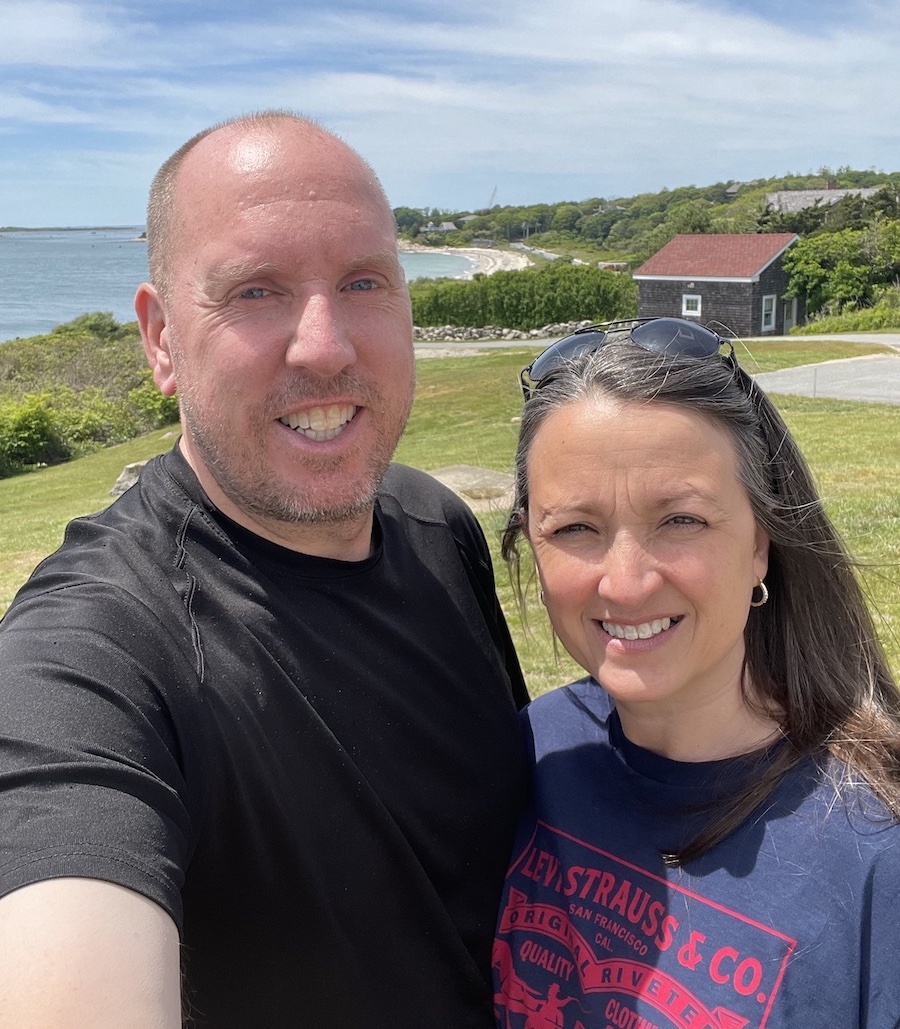 About Pastor Clayton and Christie
Hello, thank you for taking time to get to know our Pastor Clayton and his wife Christie. They were both born and raised in Danville, VA and consider it a privilege to serve God here in their hometown. Clayton graduated high school from Southall Christian and Christie from GWHS. They were married in Sept. 1996, the same year Christie graduated from DCC nursing school. Three years later in 1999 their life changed as Clayton accepted the pastorate at Shining Light Baptist Church, where he still serves today. Clayton earned his Masters from West Lenoir Baptist School of Ministry and his Doctorates in Biblical Counseling from Andersonville Theological Seminary. Christie, continued working while going back to school to earn her Bachelors degree in nursing from JMU. She currently works with LASH group from home.
Clayton was saved early in life, at the age of six. Christie was nineteen before she heard a clear presentation of the Gospel and became a Christian. Clayton grew up attending church, and was educated in Christian schools from elementary through high-school. Christie, being raised by a single mom who did not drive, seldom attended church and learned very little about the Bible until after becoming a Christian in 1995.
They enjoy outdoor activities like walking and riding their bikes on the river trail. They both enjoy watching college basketball, especially when their favorite team is having a good season. Pastor Clayton loves teaching the bible, he enjoys helping Christians build their bible knowledge, as well as their relationship with God.
They would welcome the opportunity to help you and your family develop and grow into Voices for Gods Word and Hands for God's work. Come visit us at SLBC of Danville.
We believe that the Bible is the inspired and authoritative Word of God through which God has disclosed his character, his will, and his plan of redemption.
We believe in the deity of the Lord Jesus Christ, his virgin birth, his sinless life, his miracles, his death as an atonement for sin through the shedding of blood, his bodily resurrection, his ascension to heaven, and his personal return in power and glory.
We believe in the ministry of the Holy Spirit whose presence enables believers to live by faith and grow in spiritual maturity.
We believe in the bodily return of the Lord Jesus Christ and the resurrection of the dead for both salvation and final judgment.
We believe in only one God who has existed eternally in three persons: the Father, the Son and the Holy Spirit.
We believe that human beings are sinful, guilty, and lost without Christ and that salvation from the consequences of sin comes only through the work of Jesus Christ on the cross where he bore our sins and died on our behalf.
We believe that sinners are made right before God only by God's grace, through faith in Jesus Christ.
This brief statement of faith does not cover the full extent of our beliefs. The Bible itself, as the inspired and authoritative Word of God that speaks with final authority concerning truth, morality, and the proper conduct of mankind, is the sole and final source of all that we believe.